Kovy Cat Sparkle Sticker
The special enamel pin lives on immortally in this permanent collection sticker!! At 3" (three inches) of star sparkle adorableness, your laptop or sketchbook will have onlookers be mad frickin' jealous.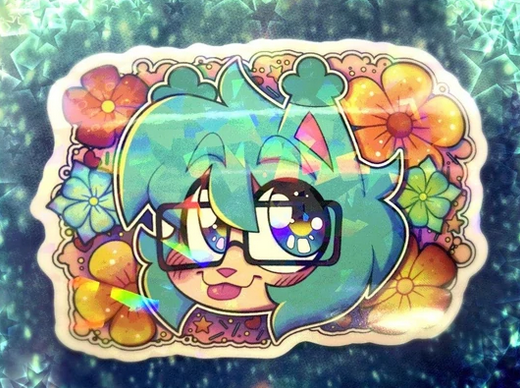 VARIANTS:
🌺✨Experimental✨🌺 - We wanted to see if a lowered opacity would let the sparkles come through... and it does!!🥰 The colors will be more muted versus the original full-opacity sticker, but you'll see more sparkle on your sticker!

🍎Concept: @AshNicholsArt
🍏 Lined + Colored: @RiplaeChills
🍌 Produced: @Faustisse
Kovy Cat Sparkle Sticker Angel Dust AshNicholsArt Prints Color Paper Art Merchandise Farfetched Hazbin Hotel Lackadaisy Goth Bunny Waifu Print Judy Hopps Zootopia AshNicholsArt Prints Color Paper Art Merchandise Farfetched Hazbin Hotel Lackadaisy Kovy Cat Sparkle Sticker