Huni Bunny Special Pin
🔥 9 LEFT!!
Our first SPECIAL EDITION🍾 Huni Bunny pin!! The icon and hostess of Hunicast🐇 is adorably captured in a petite one inch (1") of anodized metal, soft enamel, and cuteness.💖


Each pin has been manufactured with a number to signify it's place in the edition; with only 100 pins to mark this first-time launch🌠, each pin has been authenticated with a marker to signify it's place in production (for example, 1/100, 2/100, 3/100, etc.)🧮


Future Special Collectibles will have a logo stamped to further ingratiate their authenticity, so bare in mind that these particular pins are the only ones that will be without their logo. But that just makes them all the more special.🤩


The pictures SADLY do not do the justice of how chromatic these pins really are. Ashley loved them immensely, and asked if we could make all future rainbow chrome... so expect that in the future!😉


SO THEN, WHAT MAKES THEM SO "SPECIAL"?:
🍒 Sporadically, seasonally, annually, or WHAT HAVE YOU- there will be times where we release a collectible, limited edition of anodized pins. These pins will only be produced once, and never again.
🍉 Each limited edition pin will be dropped as a flash sale✨. These flash sales will be announced by either me (@Faustisse), Ashley (@AshNicholsArt), or the shop's twitter (@HuniBunnyShop) at time of launch; this is meant to keep competition and value fair and valid.
🍊 Each pin will have a edition number and a logo to authenticate their pedigree. We're doing this to avoid any future nonsense of copycats, rips offs, and bootlegs. Also because it looks cool.👀
🍋 And, of course... each pin is saved and catalogued in a big ol' book of secret secrets (the Huni Bunny Pin Book🐇).
🍓 There's a limit of one (1) pin of each collectible variety. You can buy one HuniBunny and one Kovacat, but you can't buy two HuniBunnies and three Kovacats. That's like... pentuple dipping, bro. And that's a party foul.
Keep an eye out on our twitters, and thank you so much for your guy's support!!!💖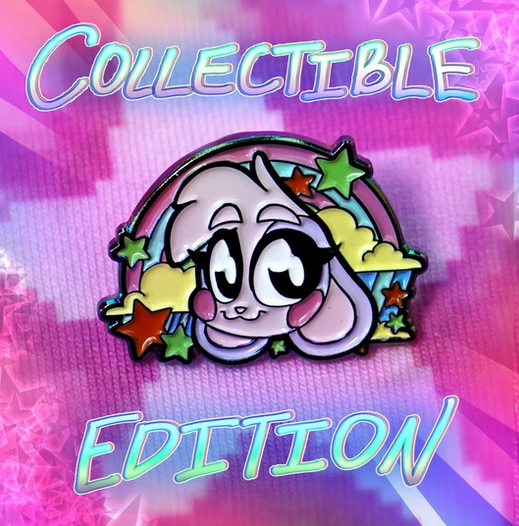 🍎Concept: @Faustisse
🍏 Lined + Colored: @RiplaeChills
🍌 Produced: @Faustisse

Huni Bunny Special Pin Angel Dust AshNicholsArt Prints Color Paper Art Merchandise Farfetched Hazbin Hotel Lackadaisy Goth Bunny Waifu Print Judy Hopps Zootopia AshNicholsArt Prints Color Paper Art Merchandise Farfetched Hazbin Hotel Lackadaisy Huni Bunny Special Pin